Black History Month – a worldwide event – was celebrated by the Milton Keynes University Hospital BAME* Staff Network in October as it continues to recognise the importance of diverse representation in our working community.
To honour this year's event, staff, trustees and the wider MKUH community attended a discussion forum led by Joe Harrison, CEO and Alison Davis, Trust Chair.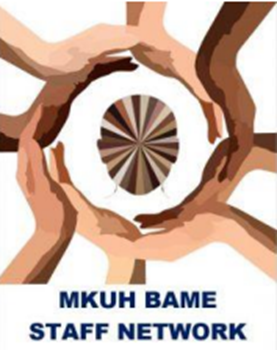 Additional guest speakers on the day included Kate Jarman (Director of Corporate Affairs), Danielle Petch (Workforce Director), Nicky Burns-Muir (Network Executive) and Alice Holland (Senior Staff Nurse Theatres, Chief Nurse Fellow and MKUH BAME Network Chair).
The national theme for Black History Month 2022 was 'Time for change: Action not words' which the BAME Network firmly believes in and is striving to take action to promote a more inclusive working environment. The Network is also advocating for Allyships within MKUH and its Trust. Through promoting Allyships, the group aims to challenge inequalities all year round and recognise the power and potential of equality, diversity, and inclusion to create stronger teams, new ways of working and a more successful MKUH.
Event host, Alice Holland, instrumental to the work that the BAME Network is implementing at MKUH, comments, "Our event helped us to direct the message to a wider audience and continue our conversation on Allyship throughout the organisation. Already, through surveys to staff, we have been able to identify areas where we need to improve support for all our staff in the most inclusive ways possible.
"We are especially looking at recruitment, to ensure we are offering equal opportunities and fair representation across the community. Following our survey feedback, we would like to seek increased representation within our Leadership teams. This is something we are addressing through additional training, embracing cultural differences and honing interview techniques and personal statements for all. These actions will help to further support employees from different backgrounds and help make all staff feel better able to take the next steps to build their careers with us.
"We are working especially hard to address any issues faced by international staff within our community. It's vital that we embrace all cultures and backgrounds and incorporate their practices and customs into our teams. Through peer coaching and mentoring, we can work together without prejudice, to ensure all staff feel heard, included and part of the team."
Other areas addressed by the proposed Allyship will include:
Senior Management role modelling on being an ally
Encouraging managers to learn more about and promote Allyship to their teams
Demonstrating that Allyship is intrinsically linked to MKUH Trust Values
Encouraging all MKUH staff to self-reflect on their own behaviours
To use the platforms, you must take action and enable a marginalised individual or group to progress, thrive and fully contribute
To work together to find solutions and make our workplace the best it can be for everyone.
The objective of the Allyship is ultimately for all staff to feel psychologically safe at work, which translates to high-quality care for every patient.
*BAME stands for Black, Asian, Minority, Ethnic